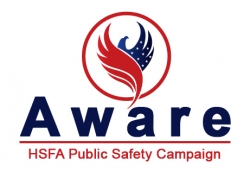 Chamblee, GA, May 16, 2019 --(
PR.com
)-- Today, the Homeland Security Foundation of America (HSFA) Office of Public Safety announced plans to host a town hall meeting at the Adam's Mark Hotel and Conference Center, located at 9103 E 39th St, Kansas City, MO 6413317, on 22 May 2019, from 7:00 p.m. to 10:00 p.m. to have a discussion on active shooter awareness and preparedness.
"So far in 2019, 226 people have been killed and 95 wounded in 67 mass shootings according to the Gun Violence Archive," said Eric Brown, President, HSFA. "Preparedness saves lives. It's heartbreaking to see the number of incidents year over year since Sandy Hook. I cannot stress enough the importance of active shooter awareness and preparedness training. We're thankful to continue to have support from experts at DHS CISA. I encourage you to register and participate in our upcoming town hall to learn more on how to survive active shooter attacks and to have your voice heard."
HSFA officials have confirmed Chuck Clanahan, CPP, Department of Homeland Security (DHS) Cybersecurity and Infrastructure Security Agency (CISA) Protective Security Advisor (PSA) for the state of Kansas, will deliver the keynote address. With 35 years' experience in security, law enforcement, risk management, and crisis preparedness, in a combination of both military and federal service, Clanahan has a unique and extremely beneficial perspective to share with participants.
"Since 2013, there's been just one full calendar week--the week of January 5, 2014--without a mass shooting," said Brown. "The threat of active shooters impacts us all. Through our Aware campaign, individuals, who may not be exposed to public safety information during their normal course of business, gain direct access to life-saving preparedness strategies. We cannot share this information enough."
Deputy Chief James Garrett (RET.), Kansas City, Missouri Fire Department, Lt. Donald Powless (RET.) and Rick Tresnak of Innovative Rescue Solutions will serve on the panel for a Q&A session with attendees after the keynote address.
HSFA officials say the organization is working to conduct active shooter awareness town hall meetings in all 435 congressional districts. With immediate plans to serve hundreds of districts over the next few years, HSFA has committed to continuing the Aware campaign, focusing on active shooter awareness and preparedness, for as long as the threat exists.
The Aware public safety campaign is a series of events, training opportunities and outreach activities conducted by HSFA designed to increase the public's awareness of active shooter threats and preparedness strategies through community outreach and a series of town hall meetings. For more information about the Aware campaign, visit http://www.hsfamerica.org/aware.
To register free for the Kansas City town hall meeting, visit http://www.hsfa.us.
Founded in 2002, HSFA is an agency organized and certified as public, tax-exempt under IRC 501(c)(3) with 170(b)(1)(A)(vi) status. Its mission is to advance hometown security while protecting civil liberties. This mission is accomplished by the organization working with local, state and Federal agencies, organizations and communities to deliver life-saving public safety, energy security and health and human services programs to the public. HSFA is not a government agency. For more information about HSFA's work in the community, visit http://www.hsfamerica.org.