P-Rite Gives All Women Freedom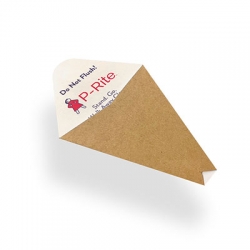 Cleveland, OH, May 24, 2019 --(
PR.com
)-- P-Rite™, a women's stand to pee device announces their new website www.P-Rite.com.
P-Rite™ Gives All Women Freedom!
P-Rite™ is a disposable paper funnel that women of all ages can use to pee standing up. It allows women to free themselves from dirty porta-potties, long lines and squatting in the woods. P-Rite™ gives women the freedom to urinate privately, sanitarily and even conveniently.
The redesigned website offers a user-friendly experience with improved navigation, new features and functionality. Users can learn quickly and easily about the convenient, sanitary, biodegradable female urination device helping women have an active lifestyle. The device can be used while outdoors, at sporting events, festivals or even in the military. Customers can purchase the patented P-Rite™ female urination device via a secure e-commerce platform.
P-Rite™ is a women-owned company based in Cleveland, Ohio. The P-Rite™
female urination device
was invented by Cindy Rudolph, a registered nurse, who experienced a common female dilemma while on a camping trip with her daughter and young granddaughter. After returning home, she was inspired to create a device to help women with this problem. Her goal was to make the product the best on the market for women of all ages, shapes, and sizes who want to urinate standing up. The result: P-Rite™ is the only Stand to Pee (STP)/Female Urinary Device (FUD) that is disposable, leak-proof, easy to use and biodegradable. Each P-Rite™ order is shipped with funnel devices and holders; each holder fits three to four devices comfortably.
For more information on P-Rite™, please visit www.P-Rite.com.
Contact
P-Rite
Cindy Rudolph
440-724-8106
www.p-rite.com

Contact