Kirk Cameron Speaks at Plumstead Christian School's Ninth Annual Founders Forum & Second Annual Multi-School Assembly
Each year Plumstead Christian School invites a nationally known Christian whose faith informs the way he or she lives. The 2019 Founders Forum keynote speaker, Kirk Cameron, is an actor, director, and producer best known for his early work on TV sitcom Growing Pains, the Left Behind movies, and Fireproof. Most recently Cameron has produced documentaries entitled Monumental and Connect, and he speaks on marriage and parenting in churches across the nation with his Living Room Reset.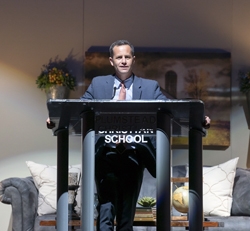 Plumsteadville, PA, May 28, 2019 --(
PR.com
)-- On Monday, May 6, 2019, Plumstead Christian School (PCS) held its ninth annual Founders Forum. Actor and Producer Kirk Cameron was this year's keynote speaker.
During the main event, Kirk Cameron made a compelling case for Christian education. He also encouraged the audience to be faithful to a Christian worldview, to be inspired by strong Christian role models that have gone before us, and to make a positive and lasting difference in our world. His talk was followed by a question and answer session moderated by PCS headmaster, Patrick Fitzpatrick. John and Doris Spier, PCS alumni parents and former board members, were recognized during the evening as honorary founders to celebrate their nearly forty years of faithful service, leadership, and volunteerism.
Kirk Cameron agreed to stay an extra day, and Plumstead Christian School (PCS) hosted its second annual Multi-School Assembly with a total of twelve area Christian schools represented. The cost of the assembly was covered by a generous donation from Covenant Bank. In addition to Plumstead Christian School students and faculty, the auditorium was also filled with students and faculty from Calvary Baptist School, Cedar Grove Christian Academy, Crossroads Christian Academy, Faith Christian Academy, Grace Christian School, Holmseburg Christian, Lehigh Christian Academy, Lehigh Valley Christian High School, Quakertown Christian School, Valley Christian School, and West-Mont Christian Academy. The crowd of almost 900 students and teachers enjoyed corporate worship and then heard from keynote speaker Kirk Cameron in both a presentation and a moderated question and answer session. Kirk was quick-witted, gracious, and inspiring. He challenged and encouraged the audience with his faith story – specifically how and why he rejected the atheism of his youth and embraced the truth of the Bible and the God of the Bible.
"Most schools only get together to compete," says Plumstead Christian School's headmaster Patrick Fitzpatrick. "To my knowledge, we are the only school in the country creating this kind of experience, and I believe the students and educators in the room really appreciate it."
PCS values student leadership, and as evidence of this, the entire Multi-School Assembly was run by students. They ushered, they welcomed the crowd - recognizing each school in attendance, led the schools in corporate worship and prayer, introduced the speaker, and moderated the question and answer session.
About Plumstead Christian School
Plumstead Christian School (PCS) is in its 70th year as a Christ-centered, nondenominational, college preparatory school that serves preschool through 12th grade students on two spacious campuses in Bucks County, PA. The school's mission is to provide a caring community where students are educated to think biblically, serve effectively, and lead Christ-centered lives. Through the years PCS has developed a solid reputation in academics, athletics, and the arts. Ninety-eight percent of all recent graduates attend four year colleges and universities, and many students earn college credit – top students as much as forty five credit hours through the extensive Advanced Placement courses and dual enrollment courses (through Cairn University) offered at PCS. Recent graduates have been accepted to a variety of top ranking schools including Berklee College of Music, Drexel University, Gordon College, Grove City College, Lehigh University, the Massachusetts Institute of Technology, Messiah College, New York University, Penn State University, Taylor University, Temple University, the United States Air Force Academy, the University of Pennsylvania, Wake Forest University, Wheaton College, and Villanova University.
The school is known regionally for its Founders Forum, a speaker series that was recently recognized as The Best Fundraiser in the BucksMont region by the readership of the Intelligencer. Founders Forum attracts some of the most influential Christians of our time. In recent years the school hosted former governor of Alaska Sarah Palin, President George W. Bush, Tim Tebow, Dr. Ben Carson, Al and Phil Robertson of A&E Duck Dynasty fame, Steven Curtis and Mary Beth Chapman, author and radio personality Eric Metaxas, Eagles Quarterback Carson Wentz, author and pastor Lee Strobel, and actor and movie producer Kirk Cameron.
Contact
Plumstead Christian School
Patrick Fitzpatrick
215-766-8073
www.plumsteadchristian.org

Contact