PF WaterWorks Introduces 'Clean and Green' Commonsense Drain Management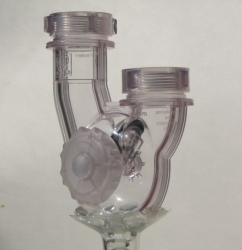 Houston, TX, May 17, 2008 --(
PR.com
)-- Three years ago, a team of professionals from Texas and Oklahoma oilfields concluded that there must be a better way to maintain a clean drainage system. Resolving to find a solution that enhanced self-sufficiency while protecting the environment, a technology was developed to simplify the obvious, the drain cleaner was placed inside the P-trap. Serving the purpose of a conventional p-trap used with sinks and lavatories today, this 'Green by Design' home improvement system offers many new advantages. The concept for clean and green common sense drain management was born in the PermaFLOW™ Drain.
PermaFLOW's™ unique construction generates flow turbulence to self clean the fixture. Sediment is continually moved downstream preventing routine buildup. In the case of an obstruction due to large accidental deposits (aquarium rocks or vegetable peels), PermaFLOW™ provides quick overflow protection through the upper by-pass chamber. Unlike traditional p-traps, PermaFLOW™ is transparent which allows for easy inspection to locate, prevent or solve potential problems. Equipped with a rotating paddle to wipe and lift, routine buildup is easily cleared without opening the drain to a messy cleanup. Now, there will be no more delays because of sink drain repairs. Should a dropped item require retrieval, this same internal paddle rotates clockwise to trap, collect and lift that item to the nine o'clock position where it may be removed through the sink.
"When you can see it, with PermaFLOW™, you can solve the problem," said Sanjay Ahuja, Vice President of PF WaterWorks based in Houston, Texas. "PermaFLOW's™ simple, effective operation eliminates the expense, effort and frustration from using the typical plungers and snakes," he added.
PermaFLOW™ Drain offers a Green alternative. Designed to operate with high efficiency faucets to provide low water flow and smaller water volumes, PermaFLOW™ has five active functions to improve water conservation while removing debris to maintain flow. One beneficial feature safely ends the need for hazardous drain-clearing chemicals and the associated personal safety and environmental issues. Since these chemicals are no longer required, quality gray water is available for alternative use in efforts to recycle water. Some geographic areas focus on conserving or recycling water resources, but everyone is interested in effective water use and economical utility bills. PermaFLOW™ is a positive contribution for the plumbing industry toward improving the sustainability of homes.
This innovative new product has received a very positive response. PermaFLOW™, has been selected for inclusion in this year's PATH (Partnership for Advancing Technology in Housing) Concept Home National Demonstration Project. The 2008 Charleston Concept Home design and technical specifications will meet the nation's most rigorous green building certification programs including Leadership in Energy and Environmental Design (LEED) for Homes, ENERGY STAR™, EarthCraft House, and the new National Green Building Standard from the NAHB Research Center, a subsidiary of the National Association of Home Builders.
"We've taken PermaFLOW™ to the key industry and trade shows and the most common reaction from most people is "It should have been invented 200 years ago" while others say, "Oh, wow! Why didn't I think of that?" and that "PermaFLOW™ is the neatest product they have seen recently," added Mr. Ahuja.
The product has generated so much interest, that the group has formed PF Waterworks, the umbrella company under which PermaFLOW™ is being marketed. With this new product, PF Waterworks truly sets a new industry standard for drain management.
PermaFLOW™ has been featured this year at the International Builders Show in Orlando, Kitchen and Bath Industry Show in Chicago ad the National Hardware Show in Las Vegas and will also be featured at the Green Purchasing Exposition in Chicago in June as well as the BOMA International Conference and the Office Building Show in Denver in June. For more information and to see PermaFLOW™ in action, log on to www.pfwaterworks.com, or call 1-877-265-9777.
###
Contact
PF WaterWorks
Sanjay Ahuja
281-573-8422
www.pfwaterworks.com

Contact