On Being a Sh*t: Unkind Deeds and Cover-Ups in Everyday Life
Based on years of research, this book reports on the development and testing of a theory of being a sh*t. Inspired by Harry Frankfurt's best-seller, On Bullsh*t.
New York, NY, June 02, 2008 --(
PR.com
)-- For many years, Jane Gilgun did research on serious violence, such as rape, child molestation, and murder. In their own words, perpetrators described multiple and ingenious ways they evaded responsibility for their behaviors and blamed others for their terrible deeds.
As Professor Gilgun learned about crimes and cover-ups, she began to notice variations of them in everyday life among persons who had committed minor unkind deeds and who sought to cover them up through humor, evasion, and blame.
When she read Harry Frankfurt's best-seller On Bullsh*t, she found a name for the acts she had noticed for so many years. She called these everyday acts being a sh*t. Frankfurt, a philosopher, wrote a philosophical essay. She is a researcher, and the present book is a report on research she conducted.
Why an Impolite Word?
She chose the impolite being a sh*t over the respectable terms being insufficiently accountable and the evasion of responsibility because the term being a sh*t fits the experience of unkind deeds and cover-ups in everyday life. When someone dumps on us and then tries to cover it up, a typical response is "You sh*t!"
She wrote this book to let others know what she have learned from her research and to help them avoid being trapped in the maneuvers that are so familiar to her. She admit that she have been a recipient of unkind deeds and cover-ups and have expertise in enabling them. She is much better at being a recipient than an enactor, although she has some talent in that regard, too.
Readers say about this book
"a humorous look at a serious topic"
"No one has ever written about this subject before."
"We all live with sh*ts. Heck, I live with one—being one myself."
"It's smart, provocative, and I will never take that phrase for granted again."
Available from on-line book sellers, Amazon Kindle, and Mobipocket.
###
Contact
Jane Gilgun Books
Jane Gilgun
612 925 3569
janegilgun.com

Contact
Multimedia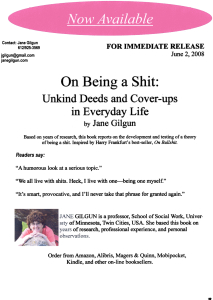 This book reports on the development and testing of a theory of being a sh*t, inspired by Harry Frankfurt's best-seller On Bullsh*t.