Talent Agency and Film School Join Forces to Discover Spanish Speaking Actors
Westbridge Film School and 'Normal People' talent agency have issued a call to discover 18 Spanish speaking persons and grant them a full scholarship to become successful actors for film. At the end of their studies, they will be recruited by the agency and offered to participate in real life projects.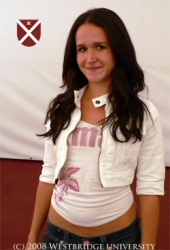 Mexico City, Mexico, June 14, 2008 --(
PR.com
)--
Westbridge Film School
and 'Normal People' talent agency, both based in Mexico City, announced today that they intend to discover Spanish speaking men and women of all ages, who have the desire and potential of becoming film actors. As they get discovered, the Film School will grant them a full scholarship to successfully learn the technique and the agency will link them to the professional film and acting industry.
The school's Academic Director stated that every hispanic person who covers the institution's admission requirements and timely submits a presentation video will have the opportunity to participate for a scholarship that covers the full tuition fee for the Diploma in Acting for Film, which has a length of 200 hours and is intensively imparted throughout 3 months.
With this benefit, those persons who get discovered by Westbridge Film School, not only will save a total of $1,500us, but will also receive the opportunity to act in short films, acquire practical knowledge, and learn directly from film industry professionals. The Talent agency representatives also mentioned that those persons who satisfactorily conclude their studies at Westbridge will be recruited and promoted in the industry by them.
"Our main goal is to prove the world that even when talent can be hidden inside normal people, in the Spanish speaking population there is a lot of acting potential to be discovered. We are committed to finding that talent and developing it", said Mauricio De la Orta, dean of WEFIS Mexico, "Those persons who prove us that they have the dream and the potential of becoming actors, will receive a unique opportunity to start a professional career in the acting industry".
People interested in the
acting for film scholarship
can apply directly at http://www.westbridge.edu.mx/escuela-cine-actuacion/Actuacion-beca.htm
About Westbridge Film School
Westbridge Film School is part of Westbridge University, an educational institution founded in 1999 that is focused in preparing successful professionals in creative fields such as Culinary Arts, Animation, Visual Effects, Film, Acting and Marketing.
During its nine years of existence, Westbridge, the University of Creativity, has been able to position its graduates in the most recognized companies in the industry, both in Mexico and Worldwide. Westbridge University is recognized in the industry as a breeding ground for ethical creative-people, with practical skills, and who are in love with their profession.
About Normal People
Normal People is a talent agency located in Mexico City, founded in 2006 by Giovanni Cervantes, and ever since that day has been collaborating successfully with Ad agencies, TV stations, Photographers and Independent film producers.
###
Contact
Westbridge University
Mauricio De la Orta
+52 (55) 1163-6120 & 5536-0406
www.westbridge.edu.mx

Contact