Free Gas Cards - Relief at Last from LA's Le Petite Retreat Day Spa
Free gas cards for spa visits in this tough economy being offered by Los Angeles' Le Petite Retreat day spa.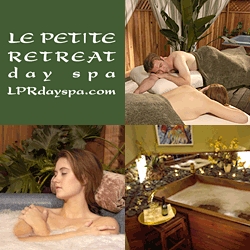 Los Angeles, CA, June 23, 2008 --(
PR.com
)-- Le Petite Retreat day spa announced their "Free Gas Card" summer program to help relieve the economic difficulty people are facing during this time of inflated gas prices. This is Big news from LA's favorite true day spa, which has always come to the rescue when Angeleno's needed help the most.
"Though we're LA's top day spa, we're as fed up with high gas prices as our guests!" says Lysa Kustek, owner of LA's popular Le Petite Retreat day spa. "We're helping our guests' get to our spa so they can escape momentarily from today's stressful times." "And, since no one in Washington seems to do anything to help, at least we're helping with a solution" says Ron Kustek, co-owner. "There's no more reason for couples to put off celebrating a special time, or delay detoxifying from today's stressors --- no one should be forced to put their lives on hold any longer" emphasized Lysa.
Lysa explains: "We're local to everyone in LA for their in-town 'stay-cation', and now more than ever we provide the highest quality spa treatments at the best value! Everybody loves getting more for their money, and that's what we're known for giving," Lysa smiled. "Being known for LA's only Jade Stone Massage is now an even greater value -- imagine the stress melting away as both warm and cool Jade stones are massaged into your muscles, using both deep tissue and Swedish massage strokes, and the coolness from the cold jade stones reduces swelling, thus helping flush & detoxing your body -- let's drive free & get healthy" Lysa beamed.
Le Petite Retreat day spa is one of the few spas in Los Angeles that offers spa facials and therapeutic spa massage as same-room couple's treatments, making them a great choice for unique spa gifts, special events, & spa gift certificates. "Our theme is, 'Feel The Experience' and that's exactly what we endeavor to do - have each guest remember forever their great spa experience," Lysa says proudly.
Honored and awarded by Vogue plus a Citysearch Best Los Angeles Spa, Top 7 Los Angeles Day Spa by ABC-7, Top 9 Southern California spa by CBS-9, and a Top 10 California Luxury Spa by The Style Group, Le Petite Retreat day spa has also been praised as an innovator in spa treatments and alternative therapies by NBC, FOX, Cosmopolitan, Allure, Elle, The Hollywood Reporter, JJ (Japan), Los Angeles, Vibe, Lighthouse, Brentwood, Angeleno, In Touch, Distinction, and the country's top spa associations, have all applauded Le Petite Retreat day spa's efforts in Los Angeles.
Los Angeles Spa Le Petite Retreat day spa is best known for their holistic, therapeutic couple's treatments, including couples facials and couples hot stone massages. This authentic and true day spa is reminiscent of a luxurious French - Asian island retreat, complete with glowing fireplace, copper Hydrotherapy bath plus the outdoor garden massage cabana and garden bungalow. Le Petite Retreat day spa is located minutes from Hollywood's famous Paramount Studios and Larchmont Village's best LA shopping.
For more information contact Lysa or Ron Kustek at 323.466.1028, or visit
LPRdayspa.com
Le Petite Retreat day spa
331 N. Larchmont Blvd.
Los Angeles CA, 90004
PH: 323.466.1028
FX: 323.462.4008
info@lprdayspa.com
###
Contact
Le Petite Retreat day spa - Los Angeles
Ron Kustek
323-466-1028
www.LPRdayspa.com
or Lysa Kustek at 323.466.1028

Contact
Multimedia
Press Release of Los Angeles spa helping those during economic crunch still de-stress and detoxify at Le Petite Retreat day spa - Los Angeles