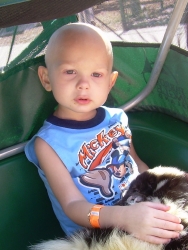 Orlando, FL, June 24, 2008 --(
PR.com
)--
The Florida office of Starlight Starbright Children's Foundation
happily announced today the launching of its new partnership with Scooter Vacations,
Orlando's premier mobility scooter rental company
. Starting this month, Scooter Vacations will begin to provide its electric wheelchairs to seriously ill children at Starlight's Great Escapes™ family events in the greater Orlando area.
The Great Escapes™ program was developed by Starlight to provide opportunities for seriously ill children and their families to spend recreational time together away from medical settings. The variety of activities offered through Great Escapes™ is endless. Activities have included: building gingerbread houses and riding miniature ponies during the Winter Carnival; being splashed by a killer whale at the aquarium; paddling down a virtual river in a kayak at Walt Disney World's DisneyQuest; seeing Grover fly through the air during "Sesame Street Live" and bowling for the first time in a wheelchair.
With this program, Starlight's overarching goal is to provide therapeutic recreation to children and families whose lives have been derailed by serious illness. Great Escapes™ connect families facing similar challenges in order to reduce their feelings of isolation; provide a vital, accepting support system; bolster spirits; create a respite from medical challenges and loneliness; and ensure that sick children and their families always have something enjoyable to plan for and anticipate.
Scooter Vacations rents mobility scooters to vacationers visiting the Orlando area and major attractions such as Sea World, Universal Orlando and Walt Disney World and have five mobility scooter rental models, electronic convenience vehicles (ECVs) to choose from based on individual needs; four models that fit in a car trunk and one specifically outfitted for on-property use. As a charity partner, Scooter Vacations will be donating the use of its scooters on an unrestricted basis to the Great Escapes™ program of central Florida for a minimum three-year period.
"We are proud to partner with Starlight Starbright Children's Foundation and have the opportunity to bring smiles to the faces of children with serious medical conditions," said Jo Ellen Andrew, owner of Scooter Vacations. "We are committed to doing everything possible to give these families the equipment they need to enjoy myriad activities and experiences organized by Starlight here in the Orlando community."
To learn more about Starlight and its programs in Florida, log onto www.starlight-florida.org or call 954.318.2178. To learn more about Scooter Vacations and its products in the greater Orlando area, log onto www.ScootOrlando.com or call 1 (407) 705-3705 or in the UK at 02071 009289.
About Starlight Starbright Children's Foundation, Florida Office
When a child or teenager has a serious medical condition, everyone in the family is affected. For 25 years, Starlight Starbright Children's Foundation has dedicated itself to helping seriously ill children and their families cope with their pain, fear and isolation through entertainment, education and family activities. Starlight's programs have been proven to distract children from their pain, help them better understand and manage their illnesses, and connect families facing similar challenges so that no one feels alone. Serving more than 6,800 children each month throughout the state of Florida, Starlight's array of outpatient, hospital-based and Web offerings provide ongoing support for children and families — before, during and after medical treatment. To learn more visit www.starlight-florida.org.
About Scooter Vacations
Scooter Vacations, Orlando's premier scooter rental company for Orlando Scooter Rental, Disney Scooter Rental, Sea World Scooter Rental and Universal Scooter Rental offers a range of luxurious mobility scooters to vacationers visiting the Orlando area and embarking on cruises from Port Canaveral. Users—including the mobility-impaired, families looking for a "survival utility vehicle" to make their theme park vacations more effortless and individuals interested in more quickly and enjoyably navigating destinations by personal transporter—choose Scooter Vacations for the perfect scooter touring experience. The only sporty Electronic Convenience Vehicle (EVC) rental company to provide the most technologically advanced scooters, it offers four models that quickly and easily fold-up or disassemble for storage or transportation in a compact car or taxi trunk and can support a rider weight capacity of up to 450 lbs, as well as a specially designed, large wheel and luxury seat model for on-property guests that accommodates up to 500 lbs. Scooter Vacations offers mobility scooter rentals beginning at only $25 per day. Visit them on-line to make reservations or learn more about the models offered at www.ScootOrlando.com or contact us by telephone at 1 (407) 705-3705 or in the UK at 02071 009289.
Contact:
Meredith Ray Feder
Starlight Starbright's Florida Office
954.318.2178, meredith.ray@starlight.org
Contact:
Jo Ellen Andrew
Scooter Vacations
407.557.2000, jeandrew@JAandK.com
###