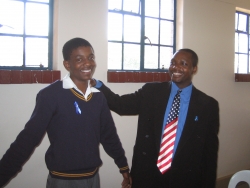 Gaborone, Botswana, August 10, 2008 --(
PR.com
)-- Two of the Malaria Foundation International's pioneering developers of the Student Leaders Against Malaria (SLAM) and End Malaria – Blue Ribbon (EM-BR) campaigns have kicked off their annual Malaria Education Campaign in Botswana at the Gaborone Senior Secondary School (GSS). They have established a strong friendship and partnership between their schools and among their students over the past few years. This year, thanks to the American Embassy, they were joined by Dr. Mary Galinski, founder and president of the Malaria Foundation International (MFI; www.malaria.org). Dr. Galinski is also a professor of infectious diseases and global health at Emory University in Atlanta, GA, USA.
The campaign started with a Malaria Education Workshop at GSS involving 47 students from Mr. Hamaluba's Information and Communication Technology (ICT) club at GSS, 2 teachers and five students from other local schools, and 5 students engaged in the SLAM club started by Mr. Meyers at the Alexander Dawson School in Colorado, USA. Mr. Hamaluba and Mr. Meyers met through the Environment Online (ENO) programme (http://eno.joensuu.fi), and they are supporting the involvement of other teachers and students from this network in the MFI's initiatives to End Malaria.
"Our common aim is to educate and train students to become active leaders in the world's fight against malaria," said Mr. Hamaluba. "The global SLAM partnership and EM-BR campaigns provide the means to get this job done." "Gaborone is fortunate to be free of malaria, but we are educating and encouraging students here to become global citizens," added Mr. Meyers. Next week we will be delivering long-lasting insecticide treated bednets in the northern regions of Botswana, where malaria persists, and passing on educational messages about malaria to help protect the community."
More information on the group's first EM-BR campaign in 2007 can be found at www.malaria.org, along with other SLAM and EM-BR activities from Cote d' Ivoire, India, Kenya, Liberia, Malawi, Niger, Nigeria, Rwanda, Southern Sudan, the United Kingdom and the United States. Teachers, students and community leaders from Ethiopia, Tanzania, Togo, and Zambia have recently also become engaged in the SLAM and EM-BR network. To become involved, future interested leaders can write to MFI@malaria.org.
The global SLAM network is focused on education and the development of national and international partnerships and friendships among teachers and students of all ages.
For further updated information, please visit www.malaria.org and the student's blog at http://ads-gss.blogspot.com
Contacts:
Dr. Esmeralda Meyer, Outreach Director
Malaria Foundation International
E-Mail: MFI@malaria.org
###