World Vegan Day Celebrations - Festivals, Film, Pizza and a Magazine Launch on Nov 1st 2008
An international round up of the World Vegan Day celebrations, festivals, parties, menus and PR launches on November 1st.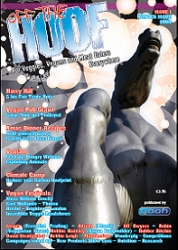 London, United Kingdom, October 21, 2008 --(
PR.com
)-- It's now 64 years ago that Donald Watson invented the word Vegan and founded the world's first Vegan Society. From humble beginnings vegans now celebrate all over the world from Croydon, London to LA, California, Wolverhampton to Melbourne, and Surrey to Sydney.
Celebrity Vegans
This year more than ever celebrities have been coming out of the closet and going public on their veganism. Natalie Portman launched vegan shoes, Paul McCartney spoke of the environment and his vegan daughter, Chrissie Hynde from the Pretenders opened a vegan restaurant, and even Oprah Winfrey went vegan for a few weeks. They join hardcore vocal vegans such as Moby and Joaquin Phoenix.
30 Million nearly vegetarians
It's estimated there are now over 30 million people in the UK who are regularly eating vegetarian and vegan foods and actively avoiding red meat. These conscious consumers are more likely to have secondary shopping preferences that include fair trade concerns, family health, animal welfare and concern over the environment.
World Vegan Day Festivals
This year there will be World Vegan Day festivals all over the world – Wolverhampton and London in the UK, LA in California USA, Melbourne and Sydney Australia and many smaller events and parties.
Vegan Poll
A poll on World Vegan day (
www.worldveganday.org.uk
) reveals that, after the rather vindictive suggestion that everyone visit a slaughterhouse, it appears activists believe that 'Better Vegan choices and dishes in Restaurants' would result in more of their friends adopting a vegan lifestyle. A collective of Vegan Restaurants in Glasgow, Scotland ( Stereo, Mono, the 78) plan to test that theory with a 'will you still feed me when I'm 64, day tripper edible ticket to ride'. It's an all day vegan dining ticket that includes breakfast, lunch and dinner.
Healthy Vegan Pizza
London Nutritionists (
www.foodsforlife.org.uk
) launched a new campaign to encourage high street pizza chains to add a healthy vegan option to their pizza menus. Foods for Life have publicised a recipe with 64 healthy ingredients – one ingredient for every vegan year. Nutritionist Yvonne Bishop-Weston says "research shows only 12% achieve the UK governments minimal targets of 5 portions of fruit and vegetables per day. We have to be more innovative in the ways we encourage people and especially children to eat more fruit and vegetables"
Vegan Magazine
A new independent vegan magazine titled 'Off the Hoof' launched by www.Yaoh.co.uk is targeting 1 million vegans, 7 million self declared vegetarians and 30 million nearly vegetarians with an irreverent, idiosyncratic cross between The Big Issue, Private Eye and Nuts or Loaded magazine. It's due to be launched on World Vegan Day 1st November at The West Midlands World Vegan Day Festival in Wolverhampton.
Vegan Feature Film
An Australian full length vegan documentary, www.adelicatebalance.com.au, unveils the many health and environmental reasons why everyone should adopt a vegan lifestyle - to save the human race.
Vegan Cookbook
Tony Bishop-Weston, Author of a new vegan cookbook published by by Lorenz called the Complete Book of Vegan Cooking claims "Campaigners expect numbers of vegans to double over the next 12 months, certainly the extra choice of vegan products on the supermarket shelves seems to verify the likelihood of that"
###
Contact
Foods for Life Nutrition Services UK
Tony Bishop-Weston
+44(0)8712884642
http://www.foodsforlife.org.uk

Contact