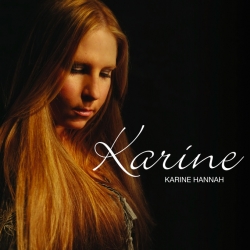 New York, NY, February 17, 2009 --(
PR.com
)-- In the winter of 2002, songwriter/producer Ayhan Sahin asked friend and colleague Larry Dvoskin to recommend a singer to record vocals on a new song he had composed, "Forget Tomorrow."
Sahin recalls, "It was never supposed to be Karine Hannah that showed up at the studio. The morning of the session, the singer canceled and I was left with a studio rental and no one to record the vocal." Following an exasperated call to Dvoskin, fate literally stepped in. Hannah and Sahin had never met, but it was obvious that kinship was on the horizon.
Hannah says, "I immediately loved the song. The lyric was about a love gone wrong, and Ayhan's production perfectly captured the melancholy surrounding it. After the first run through, I looked at him for approval and the look in his eyes was…" Completing her sentence, Sahin says, "Disbelief. It's a cliché, but I found my muse."
Seven years later, the pair has collaborated on some five dozen songs, but this marks the first time their efforts have been assembled into a cohesive collection. "Karine" is being released globally Jan. 27 on Young Pals Music—with support from the Turkish American Assn. and corporate sponsors Alke, and Asina Kitaplar—focusing first in North America and Turkey.
Montreal-born Hannah began singing at age 4. In her teens she performed in musical reviews and on local Canadian TV shows. With her powerful, passionate vocal delivery, Grammy-winning producer Jim Steinman heard a demo and called her "the best singer I have heard since Celine Dion." Apparently, the world's best-selling singer agreed: Hannah was invited to perform at Dion's wedding celebration in December 1994, accompanying a 21-piece orchestra directed by David Foster, serenading guests as they were seated for dinner.
Hannah moved to New York in 1998, working with industry legends Diane Warren and Rick Allison as well as Turkish pop superstar Sezen Aksu. Over the next decade, flexing her vocal versatility, she was trademarked at various times as a gospel singer, rock goddess, pop diva and soul songstress.
Sahin took quite a different path, as a civil engineer in his native Turkey. But on the side—and in his heart—there was another calling. He formed theatrical group Young Pals, writing full-length musicals performed by 50 singers and actors across Europe. CNN heralded his "Gods" as "Turkey's first rock opera." In 2000, Sahin ventured to New York, earning a second master's at New York University's prestigious Tisch School of the Arts.
Regarding the process of culling 60 songs into just over a dozen for this project, Sahin notes, "It would have been easy enough to tinker with some of our earlier productions, but as Karine and I revisited them, we respected what inspired those moments. We think they stand the test of time." Hannah adds, "There are so many memories attached to our sessions, whether the laughter, the emotion, what was going on in our lives at the time. We agreed to let their essence remain."
Along with consummate ballad "Forget Tomorrow"—that first song, which artfully reflects on love gone wrong—"Far Away" is a stunningly visual snapshot about anticipating her man's return; with rock-dance gambols "Breathe It All In" and "The Only One"; and sassy, funk-fortified "Gone," an invitation to commit—or walk. "Frida's Sonnet," a forlorn tome of a love affair in its final days, showcases a more theatrical hue, adapted from Sahin's full-length musical "Swedish Style." Hannah also delivers two foreign-language gems: French chug-along ballad "Si tu pars" ("If You Leave") and Turkish "Sirtimda Askin" ("The Love On My Shoulders"), which meshes instrumental influences of Arabic and flamenco.
In all, "Karine" hearkens a bygone era where an album was designed to serve up the full spectrum of an artist's ability—instead of so many gimmick-driven, pinhole-targeted acts that drive today's marketplace. Hannah's versatility is her trump, imbued with innate celestial talent and consummate emotive fervor. Aligned with these dozen-plus sing-along treasures, here is a project whose stamp is utterly timeless.
For more information: www.myspace.com/karinehannah2; www.ayhanonline.com.
Contact Young Pals Music: 646-325-3743; ayhanonline@gmail.com.
"Karine" is available on CDBaby, iTunes, amazon.com and ayhanonline.com
###