Realitalia - Lifestyle Solution Homes in Italy - Is Proud to Announce the Opening of a Beautifully Crafted Show Italian Apartment at Ville degli Olivi, Lajatico, Tuscany
Realitalia creates the Intelligent Designed Lifestyle Solution Homes in Italy. This Show Home at Ville degli Olivi contains all those attentions to achieve Sustainainability, Easy Management and Joy of living, the essential aspects of each Realitalia Lifestyle Solution Homes in Italy.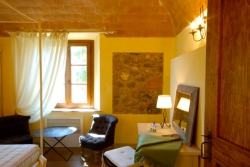 Lajatico, Tuscany, Italy, July 25, 2009 --(
PR.com
)-- "We have laboured long and hard to present to our clients a unique apartment for their delectation", says Luca Catalano, of Realitalia. " We are members of the UK Green Building Council (UKGBC) so take sustainability very seriously. In addition we provide a top class management service for those who require it and have given great attention to the interior design and quality furniture, most of which is sourced locally. We call it our "three steps to heaven."
Sustainability – Designed to save energy with high levels of insulation, quality wiring and plumbing providing low temperature under floor heating and cooling systems plus solar panelling. Homes will be certified with high energy certificates despite being a restoration. Local materials used where possible or produced locally such as the cotto tiles for the floor; the windows and doors are produced by a family manufacturer.
Easy Management – At this particular development a lot of innovation has been designed into the project where utilities can be operated remotely (the management company or the owner can turn on or off the central heating or cooling system, the garden irrigation system, open gates etc) for maximum management effectiveness and savings.
Joy of living – The enjoyment of the occupant was paramount from the selection of the furniture to the clever use of space.
There are also options to personalise your own home, so an early purchase allows for greater creativity and a one to two hour complimentary interior design consultation with an architect or interior designer plus two hours complimentary Cad re-drawing by phone or in person.
The apartments have been formed from an ancient building on the outskirts of the pretty village and benefit from breathtaking views of the orchards and unspoilt countryside that is quintessentially Tuscany.
This is the birthplace of the Bocelli brothers and Andrea Bocelli appears annually at the famous Teatro del Silenzio in the heart of the Lajatico countryside. His brother, Alberto, is a renowned architect and his love of Italian architecture can be seen in his collaboration with Realitalia to design these exceptional properties.
The village of Lajatico is a combination of pretty squares, quaint cobbled streets and ancient buildings with a choice of shops, restaurants and hostelries. It is a safe and gently environment surrounded by sweeping open countryside. There are many delightful villages to discover within a few minutes drive by car and the Tuscan sea is just 30 minutes drive. Florence, Lucca, Siena and many others are within easy reach as is Pisa and the International airport.
Conclude Luca, "The properties benefit from a comprehensive and superior management service so owners do not have to worry about maintenance. Should they wish to earn extra income whilst in the UK, they know that it is quite easy to rent, all the arrangements being carried out by the highly professional management service.
This is a chic, boutique development of just eight apartments. It is a place to relax, meet convivial neighbours and enjoy a staggering beautiful location in a home where much love and attention has been given by our company to create a truly exquisite pied de terre."
Realitalia has just produce an "IN Toscana Map" which highlights places worth visiting plus information on restaurants, hotels, bike hires, cooking courses, wine productions etc. This is a comprehensive guide and has taken over a year to complete. It helps readers understand the Chianti Pisano region and with everything from local activities to the Chianti Classic mentioned, it is a must, and can be obtained from the Show Home or on request to Realitalia.
Ville degli Olivi
One bedroom apartments from circa £200,000
Two bedroom apartments from circa £250,000
Realitalia.co.uk - Telephone +44 (0)870 8909936
Editor's Notes
It was not possible to mention all the eco-friendly devices being used in this major project, in this press release. We can supply a vast amount of additional information if required and we can arrange for the press to speak to the Director.
Realitalia are members of the UK Green Building Council www.ukgbc.org"
Realitalia signed the 2016 Commitment to build zero carbon emission homes by 2016.
Realitalia creates homes for the joy of living – homes with vision.
We create the home you've always dreamt of, shaped around your own individual needs and tastes.
Realitalia's vision blends tradition with technology, respect for local society with respect for the environment and on-site service with low maintenance costs. We combine enjoyment with return on investment, privacy with company when you want it and stunning surroundings with relaxation and well-being.
Our homes are for those who love Italy with a passion. They are for you.
Realitalia is a member of the UK Green Building Council (UKGBC) and the National Association of Estate Agents (NAEA).
###
Press For further information contact Nightingales PR
+44 (0)1825 744091 linda@nightingalespr.co.uk
Contact
Realitalia
Luca Catalano
+44 870 8909936
www.realitalia.co.uk

Contact