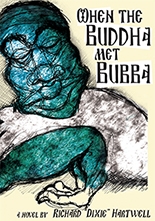 Mentone, AL, September 23, 2009 --(
PR.com
)-- When the Buddha Met Bubba, the much anticipated novel from bestselling author John Lee (under the pen name Richard "Dixie" Hartwell), is now available for purchase at all major booksellers including
Amazon
and Barnes and Noble.
Read the Reviews!
When The Buddha Met Bubba is a novel about spiritual growth and faith that will make you laugh and bring you to tears.
This whimsical fantasy deals with the integrity and surrender that comes when one redneck, but likable character, Bubba, meets his magical mentor, Pu Tai, as they set off on a journey. It has at its center a love story between a man and a woman and the devotion of a beautiful gay couple. Throw in the struggle to heal a father-son wound, prejudice, and bigotry and add a little humor and with true Buddhist/Christian compassion and you end up with a novel that is not only different but just plain fun.
Since the novel was purchased by Turner Publishing in January of 2009, it has received a great deal of buzz.
When the Buddha Met Bubba has its own
website
,
Facebook Fan Club
,
YouTube video
(featuring John Lee singing with Tony Goggans) and it has been optioned by Concrete Dreams for the film rights.
Mark Webb, actor and Director of the North Alabama Community College Theater, has lent his voice and acting talent to the audio book which should be released this winter.
"I can't remember the last time I was this excited about a book release," John Lee said. "So far everyone that has read the novel has loved it and recommends it to their friends and family. I hope this special book will change lives and minds and be shared with others for years to come."
###