Facebook Becomes Real Time Location Based - Pocketweb with First Deep Geo Integration
Geo and mobile specialist Pocketweb showcases real time Pocket Life locations of connected friends, places and messages on Facebook. Service opens up Facebook for businesses and brands to extend their customer interaction in a Facebook context.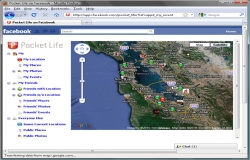 Sydney, Australia, April 21, 2010 --(
PR.com
)-- Just in time for the facebook developer conference,
Pocketweb Ltd.
uses its award winning location-based social network Pocket Life to show case real time locations of connected friends, places and messages on facebook. As part of a map based facebook app, test users can see the real time location of their connected friends, other users checking-in and interesting places nearby.
Says Pocketweb CEO Hanno Blankenstein: "This way facebook itself could use our leading Pocket Life platform to allow its users to share their real time locations, geo-tagged photos and geo-messages with their connected friends or to check-in to places."
Using a granular Sharing Control concept users are always in control of their privacy. Unlike other players the Pocket Life integration works globally and takes the real-time and continuously updated GPS location of a user and puts it into a social media context on facebook.
Says Pocketweb CMO Alexander Koeppen: "This solution provides businesses and brands the opportunity to quickly bring their location based assets onto facebook including their customers' real time locations and their geo-tagged places, photos and messages. A great way to better connect with 400 million facebook users."
Adds CTO Tony Culshaw: "The integration of our Pocket Life platform with the Facebook APIs opens up numerous ways to provide useful features and connect facebook users with mobile solutions."
The deep integration with facebook marks an important extension for consumer facing and corporate solutions of Pocketweb. Being offered to Pocketweb's existing corporate client portfolio first, the service will be enabled for new partners in the next months.
###
Contact
Pocketweb
Alexander Koeppen
+61415939559
www.pocketweb.com.au

Contact