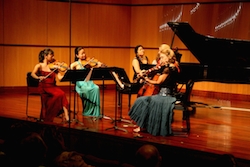 San Jose, CA, June 06, 2014 --(
PR.com
)-- Silicon Valley Music Festival returns with world-renowned talent in their 3rd season, A Festival of Folk: From the Streets to the Stage, June 22-28, 2014.
The Silicon Valley Music Festival (SVMF) returns to San Jose for their third summer season from June 22-28, 2014. Raved by the San Francisco Classical Voice as "Outstanding and Fresh" and having an exceptional roster of internationally acclaimed musicians, they aim to provide affordable access to world-class performances and educational opportunities for the communities of Silicon Valley, particularly the younger generations. Tickets are on sale now. Attendees can purchase a season subscription for $100.00 or tickets to any of the four paid concerts are $30.00.
The 2014 season features a variety of music all pertaining to this year's theme: A Festival of Folk: From the Streets to the Stage. The season's concerts will include European Folk Music (June 26), American Folk Music (June 27), and Folk Songs from around the world (Finale: June 28). The programs will feature works by familiar composers Claude Debussy, Antonin Dvorak, George Gershwin, William Grant-Still, Aaron Copland and even Viennese waltzes by Johann Strauss II. The Festival's finale concert will showcase the masterpieces by Lucian Berio [Folk Songs] and Osvaldo Golijov [Ayre] featuring the talents of New York based Soprano and international Opera Star, Malinda Haslett. Bosnian Accordionist, Merima Kljuco will also return to SVMF to present a concert [June 25] featuring works by herself, Toshio Hosokawa, Bela Bartok, and a world premier by Egyptian Composer, Ramz Samy.
SVMF is also thrilled to announce its first ever side-by-side performance with the San Jose Youth Symphony featuring students of SJYS alongside the artists of SVMF. This free community dedicated concert will take place down town San Jose at the Cesar Chavez Plaza on June 24, 2014 at 5:30pm.
SVMF was founded in 2012 by Ray Furuta-Zamora, a San Jose native and a graduate of east side San Jose's Independence High School. Currently, he is a doctoral candidate in New York and pupil of Carol Wincenc, professor of flute at the Juilliard School and Stony Brook University. His recent performances include for the Chamber Music Society of Lincoln Center as well as at the Staller Center for the Arts, Merkin Hall, and The Juilliard School in New York City. He recently returned to San Jose to perform with Emily Ray and the San Jose Mission Chamber Orchestra in April, 2014.
Furuta-Zamora is determined to help strengthen San Jose as an exceptional cultural and artistic center. Being aware of the sometimes elitist state of classical music, his efforts to combat this stereotype have culminated in the development of the Silicon Valley Music Festival and resulted in three extremely successful years of music making and cultural events in San Jose and throughout Silicon Valley.
Sunday June 22, 2014 – 3:00pm – Free Admission
Flute Master Class with Ray Furuta - Sponsored by Brannen Brothers Flutemakers, Inc. San Jose Fairmont Hotel – Pagoda Lounge
170 South Market Street, San Jose, CA 95113
Tuesday, June 24, 2014 – 5:30pm – Free Admission Community Concert at Cesar Chavez Plaza Side-By-Side with San Jose Youth Symphony
Wednesday, June 25, 2014 – 12:00pm – Free Admission Fairmont Matinee
San Jose Fairmont Hotel – Pagoda Lounge
170 South Market Street, San Jose, CA 95113
Wednesday, June 25, 2014 – 7:00pm - $30.00 General Admission Accordionist, Merima Kljuco
MACLA / Movmiento de Arte y Cultura Latino Americana
510 South 1st Street, San Jose, CA 95113
Thursday, June 26, 2014 – 7:00pm - $30.00 General Admission EuroFolk
Le Petite Trianon Theatre
72 North 5th Street, San Jose, CA 95112
Friday, June 27, 2014 – 12:00pm – Free Admission Vocal Master Class with Malinda Haslett
San Jose Fairmont Hotel – Pagoda Lounge
170 South Market Street, San Jose, CA 95113
Friday, June 27, 2014 – 7:00pm - $30.00 General Admission American Folk
Le Petite Trianon Theatre
72 North 5th Street, San Jose, CA 95112
Saturday, June 28, 2014 – 12:00pm – Free Admission Fairmont Matinee - Featuring the 2014 SVMF Student Fellows San Jose Fairmont Hotel – Pagoda Lounge
170 South Market Street, San Jose, CA 95113
Saturday, June 28, 2014 – 7:00pm - $30.00 General Admission Folk Songs of the World
ZERO1 Garage
439 South 1st Street, San Jose, CA 95113