New Sail and Dive Course Boosts Learning Vacation Experience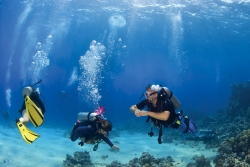 Florida Keys, FL, March 28, 2008 --(
PR.com
)-- For those who love the water, America's #1 Sailing School is moving experiential learning vacations up a notch – combining its comprehensive Learn to Sail or Bareboat Cruising Preparation courses with a PADI dive course – all in one week. "In this packed but highly rewarding program, participants will either be on the water or under the water every day," says Offshore Sailing School's founder, Steve Colgate.
An Olympic and America's Cup sailor with his 20th Newport to Bermuda Race coming in June, Colgate knows what rigorous training is all about. But in this case, he says, "the ultimate satisfaction is completing certification in two very different but symbiotic activities that anyone at any age can enjoy the rest of their life."
This special program is offered at the beautifully renovated Hawk's Cay Resort on Duck Key, which is located 60 miles north of Key West and 90 miles south of Miami in the Florida Keys. "Every day brings great sailing winds and the reefs off the Keys offer superb exploring," continues Colgate.
The first of this quarterly event will be held August 18-23, 2008 when the Atlantic Ocean off Hawk's Cay Resort is delightfully warm. Participants should plan to arrive Sunday evening and depart the following Sunday. A choice of sailing courses is available in advance: For those who have little or no sailing experience, the Learn to Sail course taught on award winning Colgate 26s is designed to take the beginner through the intermediate level. For those with solid basic sailing skills on mid-sized boats, the Bareboat Preparation Course taught on a Hunter 41DS provides the skills and knowledge necessary for chartering cruising boats without a captain aboard (hence the name "bareboat"). Both courses come with US SAILING and Colgate certification.
The dive course is taught by Dive Duck Key, a recognized PADI school based at the resort. Pre-training on line is required for those who wish certification in this course.
The entire Learn to Sail/Learn to Dive package is $2425 per person, double occupancy and includes: the Learn to Sail course with US SAILING certification, all textbooks, seven nights in a beautiful Hawk's Cay room, the dive course with PADI certification (if required e-learning was accomplished), an ocean dive, practice sail without the instructor aboard and fun-filled graduation party. The Bareboat Cruising Preparation/Learn to Dive package is $2625 double occupancy. Add $580 supplement for a single room in either case.
Those who would like to go straight from no sailing knowledge to ready-to-cruise and dive, can come in three days early for the Fast Track to Cruising® course which starts with a quick-paced three-day Learn to Sail course followed by the Bareboat Cruising Preparation course for a 10-day hotel stay starting at $3970 double occupancy. This package includes all the elements described above plus two courses and three US SAILING certificates with a built-in $200 discount for combining the two sailing courses. Add $820 for a single room.
With only 16 spots available in the Learn to Sail course and 8 in the cruising course (24 total for dive course), those thinking about this special learning adventure should call 800-221-4326 for availability as soon as possible.
Hawk's Cay Resort, which has just undergone a $35 million renovation, has beautiful new pools, a large salt water lagoon with sandy shores, exclusive new dining adventures, a full service spa and exercise facility, special programs for youngsters and teens, tennis, superb offshore and backwater fishing, and the renowned Dolphin Experience program where careful interaction with these special animals is encouraged.
Founded in 1964, Offshore Sailing School has taught more than 100,000 men and women how to sail. Chosen as best sailing lessons in New York Magazine's 2006 Best of New York issue, and ranked #1 by Practical Sailor in both instructors and curriculum, Offshore is the only sailing school recognized by the American Council on Education for credit at the college level.
Eight locations ensure accessible programs for all levels of instruction from beginner to ocean passage making. The School operates year-round at four southwest Florida bases (Pink Shell Beach Resort & Spa on Ft. Myers Beach, South Seas Island Resort on Captiva Island, the Mansion House in St. Petersburg, Hawk's Cay Resort in the Keys); Tortola, British Virgin Islands; The Inn at Perry Cabin in St. Michaels, Maryland; Liberty Landing Marina, NJ; Chelsea Piers, New York City. For information and reservations, call Offshore Sailing School at (800) 221-4326 or visit www.offshoresailing.com.
###
Contact
Offshore Sailing School
Doris Colgate
800-221-4326
www.offshoresailing.com
Editor's Note: For additional images to accompany this article, contact Mary Orme at mary@amcenergy.com or 727-733-9332.

Contact