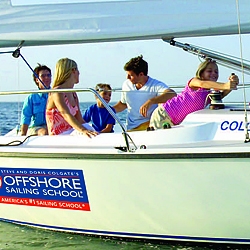 Fort Myers, FL, April 10, 2008 --(
PR.com
)-- While some families vacation in RV land-cruisers , the elevating costs of fuel related to these getaways has many scampering towards the water to enjoy free time together.
June through October, families with children between the ages of 7 and 17 can take the whole boat and learn together on an experiential vacation at great savings. The maximum per family per boat is six but only three tuitions are charged – the rest learn free. Savings on tuitions represent over $1,000 for a family of four and almost $4,000 for a family of six. Two adults are required for this program.
A long-time proponent of wind-driven power, Offshore Sailing School has just announced eco-friendly family sailing vacations at three Florida resort campuses, tailored exclusively for those who want to learn how to safely and confidently harness the wind while gaining a lifelong skill.
The three destination resort campuses -- The Pink Shell Beach Resort & Spa on Ft. Myers Beach, South Seas Island Resort on Captiva Island and Hawk's Cay Resort in the Florida Keys -- are family-friendly with a myriad of activities for everyone.
Offshore Sailing School also announced its first "Single Parents Week"-- July 13-18 at the Pink Shell Beach Resort & Spa on Florida's Gulf Coast. This special week allows single parents and their children to make new friends in a relaxed atmosphere where everyone's focus is on sailing and learning a new skill.
Accommodations ashore are extra, but kids stay free in the same room with parents. Families with little or no sailing experience should take Learn to Sail. The 5-day course is taught on award-winning Colgate 26 sailboats. With a huge cockpit, cabin below and go-fast features, the Colgate 26 provides an exciting learning platform.
If everyone knows the basics, a family can take the next step and learn to cruise on larger "live-aboard" sailboats. This 5-day Bareboat Cruising Preparation course is taught on brand new 41 to 49-foot Hunter yachts.
Fast Track to Cruising®, combines both courses, taking the family from novice to ready-to-cruise on a 12-day vacation, with a day between courses to relax.
Colgate certification comes with each course, taught in classroom sessions and on-water instruction, plus a practice sail without the instructor aboard. The total package includes a standard room ashore that can sleep up to four, an extra day of sailing on Saturday for those in the Fast Track to Cruising® course, all textbooks and a pair of sailing gloves for everyone in the family (if sizes are available).
Founded in 1964 by Olympic and America's Cup sailor, Steve Colgate, the school has taught more than 100,000 people how to sail. Chosen as best sailing lessons in New York Magazine's 2006 Best of New York issue, and ranked #1 by Practical Sailor in both instructors and curriculum, Offshore is the only sailing school in the United States qualified to offer courses recommended by the American Council on Education for college level credit.
For information and reservations, call Offshore Sailing School at (800) 221-4326, email sail@offshoresailing.com or visit www.offshoresailing.com.
###