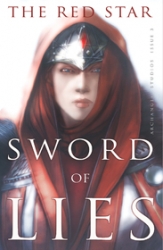 Hollywood, CA, July 22, 2008 --(
PR.com
)-- Wanted director Timur Bekmambetov has been nurturing a desire to turn Christian Gossett's graphic novel The Red Star into a feature film at Universal Pictures. Marc Platt is producing via his Marc Platt Prods. banner along with Jim Lemley, Bekmambetov and Jason Netter. Gossett and Ken Levin are executive producing.
"I have in development a... very interesting script called The Red Star based on the comic book. It's my dream project. It's something between Star Wars and Dr. Zhivago." - Timur Bekmambetov, June 25, 2008, ComicsToFilm.com
The concept behind Red Star is a look at a fictionalized Soviet Union and mixes Science fiction and military warfare in a unique blend. It is the story of an epic rebellion against the use of human souls as fuel for militarized sorcery.
The Red Star has sold over a million units worldwide, was voted among the "Top 100 graphic novels of all time" by Wizard magazine, was nominated for five Eisners Awards and is one of the most critically acclaimed independent comics' series of the decade.
The Red Star debuted in 1999 to great success and has been independently published by Archangel Studios to the present. A video game based on the series was released in April 2007.
The most recent miniseries, The Sword of Lies, is being colored by Peter Jackson's Weta Workshop. The third issue in the series, The Red Star: Sword of Lies Issue #3 - an epic 64 page annual, will have its worldwide premiere at San Diego Comic Con 2008 at The Red Star Booth (generously hosted by Gentle Giant Studios – Hall C, #3513), including a special foil cover edition, limited to only 500 copies!
Internationally published as an artist and writer at the age of nineteen, Christian Gossett was one of the first designers hired by Lucasfilm Licensing to retro-design the Star Wars galaxy in 1993. Gossett was only twenty-three years old when his radical concept drawing of a 'double-bladed lightsaber' was presented to George Lucas. George's approval memo hangs in a frame on the wall of Gossett's studio. Seven years later, this design would be made famous as Darth Maul's signature weapon in The Phantom Menace.
Bringing this same unique talent to bear when designing characters and weapons for the film and videogame industry, Gossett's work has earned him various positions on feature film projects, such as Peter Jackson's King Kong remake. His videogame career began at Activision on the PSX and continues today across all entertainment software platforms. Currently, Gossett is working on a high profile feature film project with Gentle Giant Studios.
christiangossett.com
Find out more about the graphic novel behind Timur Bekmambetov's dream project at
theredstar.com.
###