Nicklaus Opens New Golf Course, Joins Biden in Costa Rica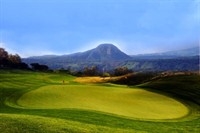 Liberia, Costa Rica, September 10, 2009 --(
PR.com
)-- Frank Biden, brother of U.S. Vice President Joe Biden, and Craig Williamson, chairman of the Guanacaste Country Club (http://www.guanacastecc.com), have announced that Nicklaus Design, the world's leading golf course design firm, will open a Jack Nicklaus Signature Golf Course at the Guanacaste Country Club, just 15 minutes from the Liberia International Airport, Costa Rica.
The Nicklaus entry into
Costa Rica golf
brings a new level of golf experience, along with environmental awareness, to a country already a leader in both in Central America. All levels of play will be accommodated, and the course will include gallery support for tournament play, multiple water influences, and plenty of bunkers. There will be an on‐site Jack Nicklaus Academy of Golf to provide a practice and training facility where beginners and advanced players can receive instruction and improve their game.
"As a partner in the project, it's great to know that at the Signature Level Mr. Nicklaus will have his boots on the ground. At this level, he has a personal stake in our overall success," said Frank Biden. "Part of my regular work week involves visiting Nicklaus headquarters in Florida. I am a personal friend and business associate of Jack's son Steve who, along with all his brothers, is a partner in the family business. I know the pride they take in their work and the responsibility they feel toward their dad and the family. I know how proud they are of our commitment to the environment and the local community in Costa Rica. Helping us make this project something spectacular is a matter of pride for the whole team. It may sound old-fashioned, but it is the only way I want to do business."
Independent research has shown that communities that feature a Nicklaus-designed golf course as an amenity have enjoyed the highest real estate value, the highest average home price, and the greatest increase in home and lot sales. The Guanacaste Country Club aims to combine the luxury of the gated community with the logical price and environmental responsibility. Additionally, the Nicklaus Academy will bring state-of-the-art golf training to Costa Rica.
"Our goals are pretty simple and have not changed, nor have they been diluted by the economic crisis. This new development model is to price our projects based upon their value to the customer, not upon 'luxury' hype or ego," Craig Williamson said. "It is indeed possible to marry 'luxury lifestyle' with common sense and environmental and social responsibility. The Guanacaste Country Club and Nicklaus Design together are proving this in Costa Rica."
The Nicklaus golf course construction will start December of this year. Pre-sale pricing of lots and homes runs until November 31st, 2009.
About Nicklaus Design
Nicklaus Design, founded by golf legend Jack Nicklaus and privately owned by the Nicklaus family, is widely regarded as the world's leading golf course design firm. Nicklaus Design boasts 341 golf courses open for play across the world in 34 countries, which have hosted events including the PGA Tour, LPGA Tour, Champions Tour, and Nationwide Tour. Nicklaus Design's philosophy is to enhance the natural environment and create golf courses that are both challenging and enjoyable for players of all levels.
About the Guanacaste Country Club
Located only 10 minutes north from downtown Liberia, the provincial capital of Guanacaste and the fastest growing region in Costa Rica, the Guanacaste Country Club offers under its motto "Luxury Living, Logical Prices" luxury
Costa Rica real estate
with a wide range of first-class amenities utilizing new environmental technologies.
The Guanacaste Country Club hosts a water-themed clubhouse complex, a health and fitness club, a convention and cultural center, world-class tennis courts and academies, and nature trails - all inside a gated community.
###
Contact
Guanacaste Country Club
President/CEO Craig S. Williamson
561.578.6608
http://www.guanacastecc.com/
Contact Corporate Headquarters
ERA Real Estate in Latin America
Mexico/Belize/Nicaragua/Costa Rica/Panama
Chairman - Green Building Council of Costa Rica
Companies of Virtus One Corporation

Contact