End Malaria – Blue Ribbon Campaign, Welcomed at European Meeting
Dr. Mary Galinski, Founder and President of the Malaria Foundation International, attended the International Conference on Malaria held April 21-22 in Bonn, Germany: Joining Forces, Synergizing Action, Sustainable and innovative ways of ensuring long-term prevention and treatment measures by 2015. The MFI's End Malaria - Blue Ribbon pins were welcomed at the meeting.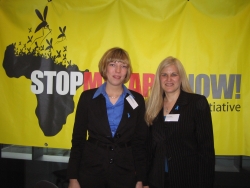 Atlanta, GA, July 22, 2008 --(
PR.com
)-- This event was hosted by the European-African Malaria Campaign called Stop Malaria Now! in cooperation with the German Red Cross and the German Foundation for World Population. As a prelude to the first World Malaria Day, 120 of the world's leading advocates against malaria from Africa, Europe and North America came together in unity to analyze the current tools and directions being used to fight malaria and make recommendations.
Dr. Galinski participated in the working group called 'Sustainable Financing – Alternative Ways" and she was pleased to see discussion generated by members of the group regarding the future prospects of expanding the "Blue Campaign" as a tool for raising awareness and funds to End Malaria. The Malaria Foundation launched the End Malaria - Blue Ribbon in 2006 as a universal symbol and tool to engage people worldwide in the fight against this disease.
The Stop Malaria Now! Organizers distributed End Malaria – Blue Ribbon pins to all participants, compliments of the Malaria Foundation. The End Malaria – Blue Ribbon pins were proudly worn by speakers and panelists, among the group's most dedicated leaders in the fight against malaria.
For more information, photos, and recommendations, please visit the Malaria Foundation International website: www.malaria.org
###
Contact
Malaria Foundation International
Dr. Esmeralda Meyer
770-891-1604
www.malaria.org

Contact